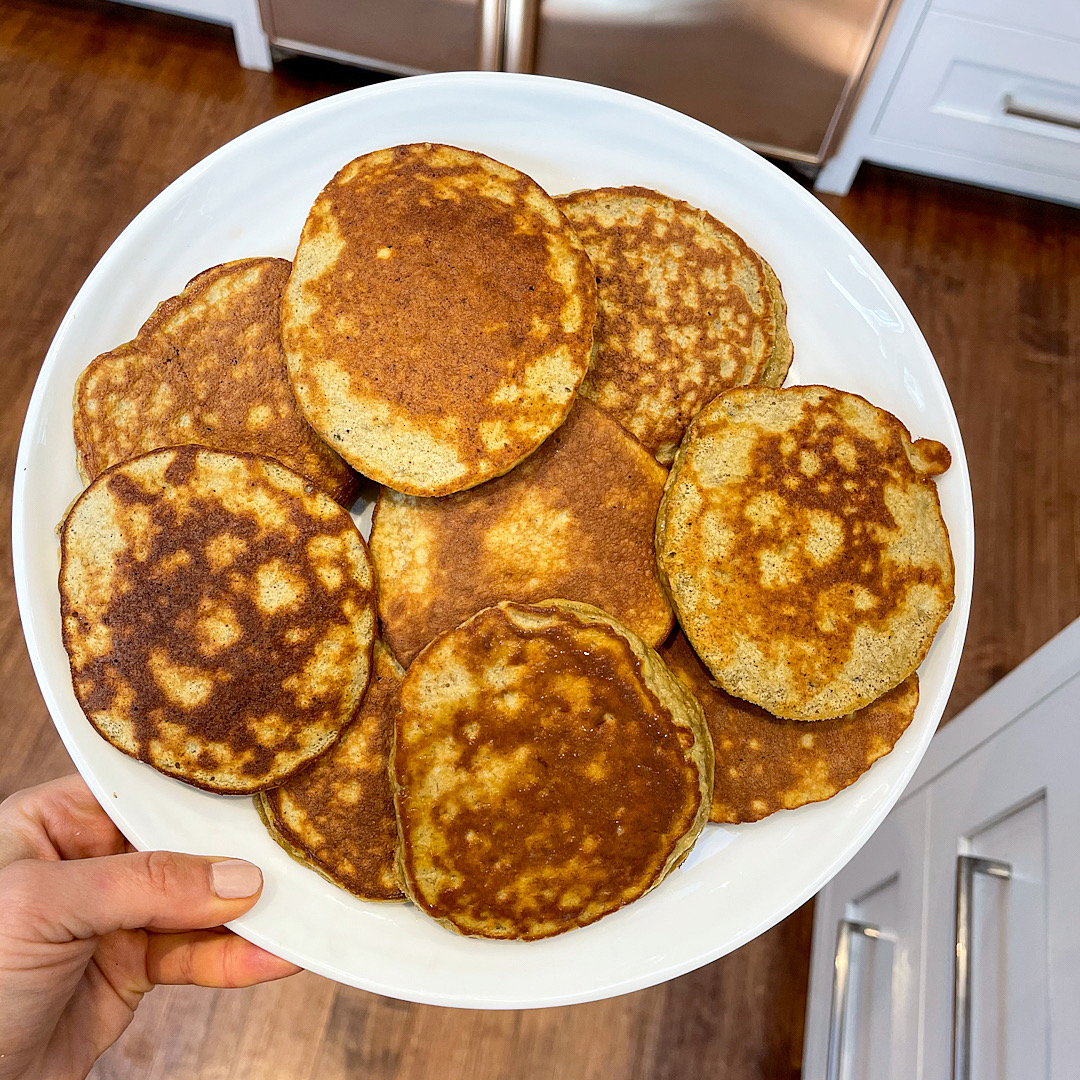 Want all of the deliciousness and satisfaction of fluffy, buttery pancakes while ALSO giving your body some nutritious food that makes you FEEL GOOD? I GOT YOU!
These pancakes not only deliver the fluffiness, sweetness, and buttery flavor of a traditional pancake, but they also support your body with protein, healthy fat, fiber, potassium, and vitamin D! While a traditional white flour pancake may spike your blood sugar first thing in the morning and leave you hungry a couple hours later, 2 of these pancakes will give you almost 10g of protein, 10g healthy fats, and under 10g of sugar.
The whole-food forward ingredients, lack of added sugar, and lack of funky oils also make these pancakes a great choice for little ones! I batch cook these for my kids to make breakfast time easier for everyone. They get to eat delicious pancakes, and I get to feel good knowing that they are being fueled with nurient-dense ingredients – win win!
If you have any leftovers or want to prep these to eat for a few days in a row, make a bunch and put them in the fridge for 3-4 days. You can also freeze them for up to 3 months! Give them a try and let me know what you think!
Banana Coconut Pancakes
Makes: 9-10 medium-sized pancakes
Ingredients:
•2 small/medium bananas, mashed
• 6 eggs, lightly beaten
•1/4 cup coconut flour (not packed)
•1/2 tsp cinnamon
•1 tsp vanilla
•1/4 tsp baking soda
•1/4 tsp kosher salt
•butter, ghee, or coconut oil for cooking
Directions:
1. Combine ingredients in a large bowl (except for butter/oil) and mix until combined. If the batter seems too thin at first, let it sit for a few minutes and it will thicken. The coconut flour just needs a minute to absorb the liquid and thicken the batter.
2. Heat a skillet or griddle on medium low heat and grease with butter or oil (I used Vital Farms sea salted grass-fed butter – it's so delicious). Let your griddle/on heat up for a few minutes before adding batter
3. Spoon batter onto griddle/pan and let cook for about 5 minutes until flipping. You will know they're ready to flip when bubbles come to the surface of the batter and the bottoms are golden brown.
4. Cook for an additional 4-5 minutes. Work in batches until batter is gone! You can store these in the fridge for up to 3 days or freeze them. Enjoy!.