I LOVE eggplant. It is seriously one of my favorite vegetables! Eggplant rollatini has always been one of my favorite dishes to order out – it has eggplant, ricotta, spinach, tomato sauce…what's not to love?! I have tried making an eggplant rollatini myself a couple times in the past, and before this one, both were disastrous. On the first attempt, I didn't have a mandolin, so I attempted to slice the eggplant by hand. The slices have to be thin and uniform for a nice rollatini, and my knife skills are not good enough to accomplish this without a handy tool. Needless to say, my eggplant slices were too thick, they were not even, and I ended up with an undercooked, barely edible dish.
The second time, I was prepared. I had my mandolin and I was determined. Unfortunately, the eggplant I bought were too large to fit onto the mandolin, and I struggled to slice them. I applied so much force onto the mandolin, that I slipped and sliced my thumb. If you are familiar with a mandolin, you know a slice from one of these guys is deep and painful. I ended up in urgent care, and my rollatini never got made.
After being scarred from my previous attempts, I hung up my rollatini chef hat for about a year. Fast forward to yesterday, and I was in Whole Foods when I noticed they were selling beautiful local organic eggplants. I picked a few up, grabbed some ricotta, and decided I would try again. This time, my eggplants were a moderate size, and I was more comfortable using my mandolin. I looked up a recipe on Cooking Light, made some tweaks, and finally had a successful dish! Here is how I did it!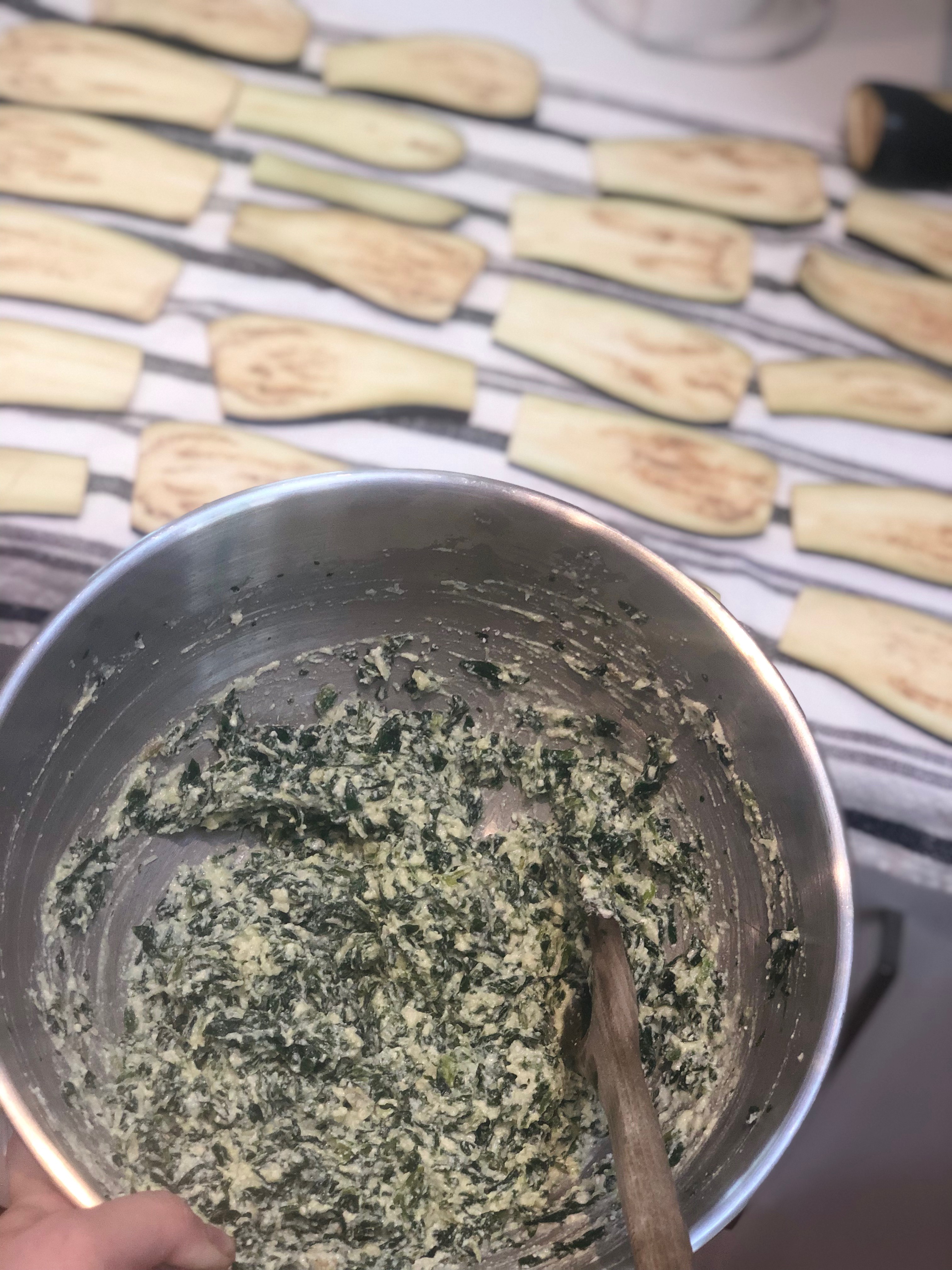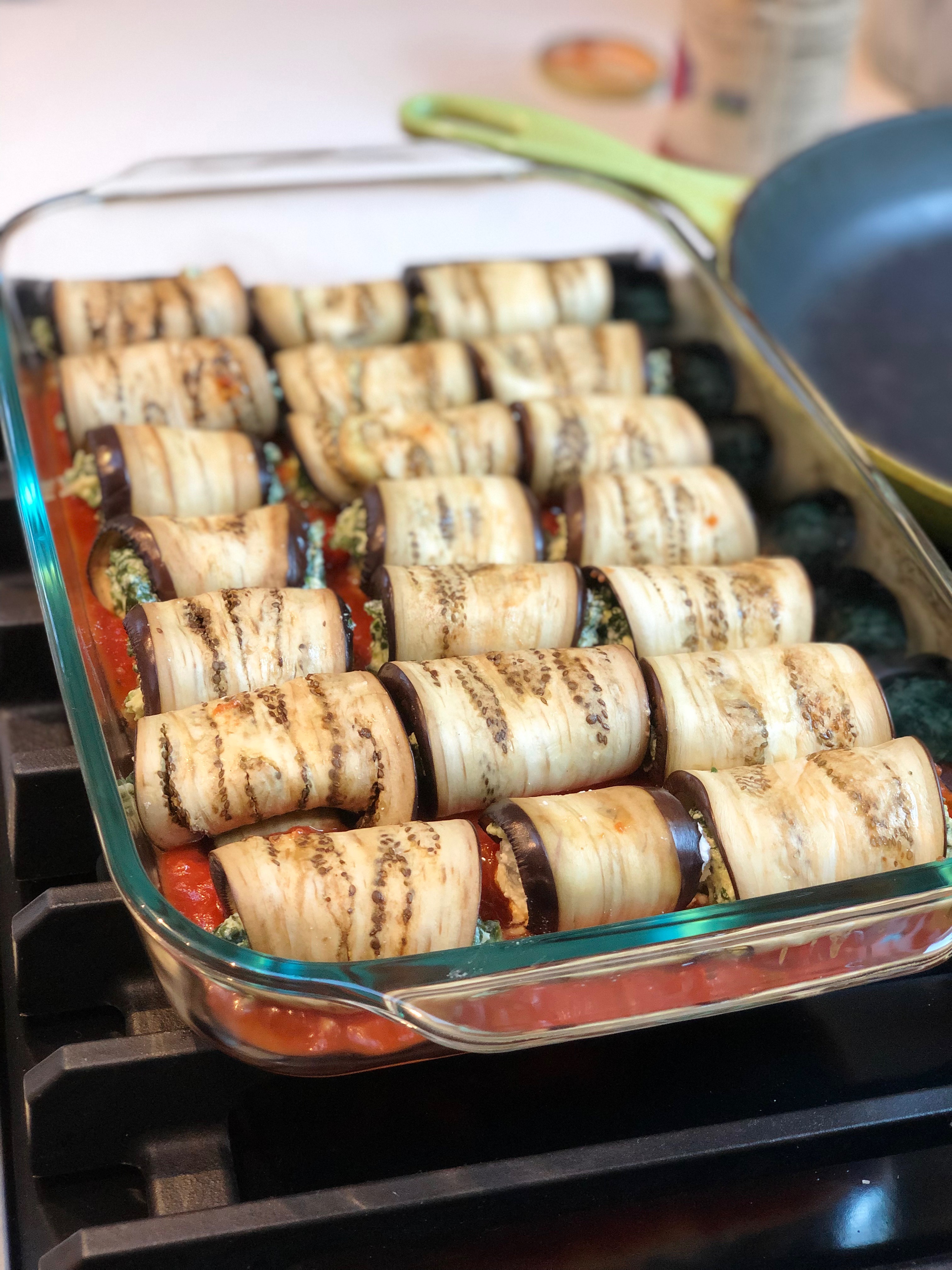 Simple Baked Eggplant Rollatini
(Recipe Adapted from https://www.cookinglight.com/recipes/eggplant-rollatini)
Ingredients:
3 small or 2 medium eggplant
1 1/2 cups tomato sauce (I used Cucina Antica – order here)
1 TBSP olive oil
1 large egg
1 15-oz package frozen spinach
1 cup ricotta cheese
3/4 cup freshly grated parmegiano reggiano
2 garlic cloves, minced
1/2 tsp kosher salt
2 TBSP fresh basil, torn into pieces
Directions:
1. Preheat oven to 400°F. Line 2 baking sheets with parchment paper. Trim ends off eggplant. Using a mandolin, thinly slice eggplant lengthwise into 1/4-inch-thick slabs. (You should have about 20 eggplant slabs total). You will find you can't use the first couple slices and the last couple slices because they are too small. You can save them, dice them, and roast or sauté them and keep in your fridge.
2. Arrange eggplant slabs in a single layer on prepared baking sheets. Cover each baking sheet with aluminum foil. Bake until eggplant are pliable and tender but not fully cooked, 8-10 minutes. Remove from oven and let sit for 10 minutes.
3. While eggplant is cooking, heat oil in a large skillet or pot. Add frozen spinach and cook until just thawed. Remove spinach from pan or pot with slotted spoon as to drain any excess water and place in a large mixing bowl. Add ricotta cheese, egg, 1/2 C parmesan, minced garlic, and salt into mixing bowl and mix until incorporated. Set aside.
4. Spoon 1/4 cup marinara sauce over bottom of a 13- x 9-inch baking dish. Place 1 eggplant slab on a flat surface; spoon about 1 1/2 tablespoons spinach-ricotta mixture onto the widest end of the slab, then roll up toward the opposite end. Place eggplant roll, seam side down, on top of marinara in baking dish. Repeat process with remaining eggplant slabs and spinach-ricotta mixture, creating 3 rows of 6 to 7 rollatini in baking dish. Top rollatini with the rest of your tomato sauce. Sprinkle remaining 1/4 C parmesan cheese on top.
5. Cover baking dish with aluminum foil. Bake at 400°F until cheese and sauce are bubbly and rollatini are very tender, about 45-55 minutes. Remove and discard foil; continue baking 10 minutes. Remove from oven; let stand 5 minutes. Sprinkle fresh basil on top. Store in the fridge in a Tupperware for up to 4 days.