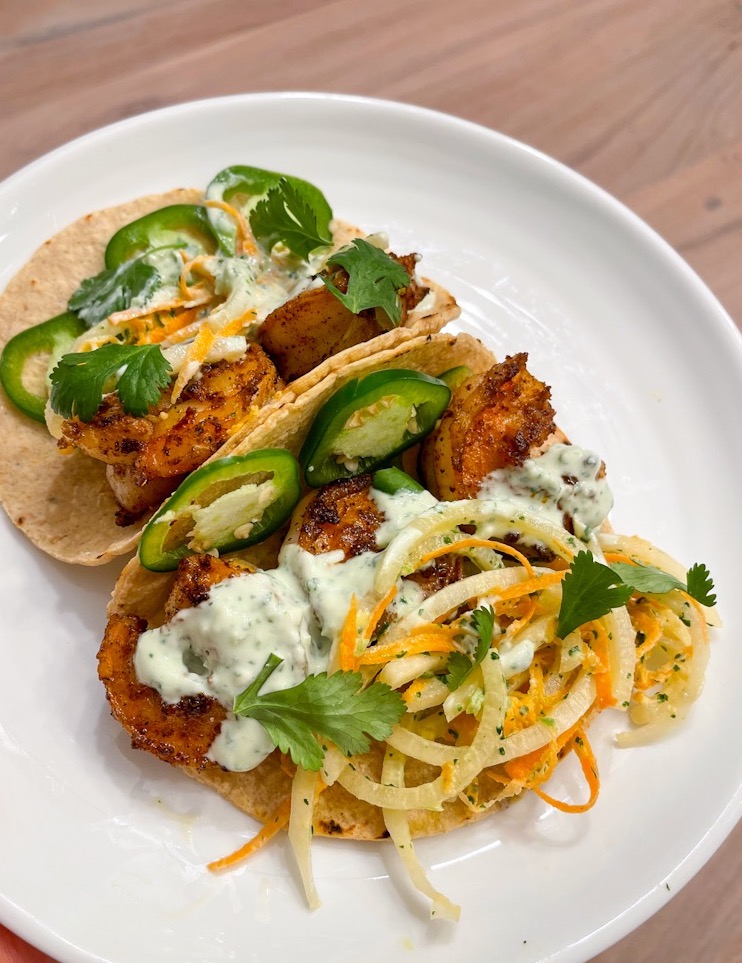 Shrimp tacos are always a good idea. These tacos come together fairly quickly (thanks to the shrimp's short cooking time and simple ingredients!), are family-friendly, and are super flavorful. They are also jam-PACKED with nutrition! Shrimp are a great source of high-quality protein, and they contain important vitamins and minerals. Shrimp contain selenium (immune function, thyroid health), vitamin B12 (energy, nervous system function), iron, and zinc (immune function). Shrimp also contain iodine, an important mineral that many people are not getting enough of. Iodine is required for thyroid function and brain health.
OK – enough nutrition talk, let's get to the TACOS. I make my tacos with sauteed mexcian-spiced shrimp and avocado crema. Feel free to add cabbage slaw (my personal favorite), beans, guac, salsa, grilled corn, etc. The beauty of this recipe is that you can modify it based on your mood!
I use fresh wild shrimp, but you can also get high quality frozen wild shrimp. If you do go for frozen, simply thaw it under cold running water for a couple minutes before preparing it.
Shrimp Tacos with Avocado Crema and Slaw
For the Shrimp:
1 lb peeled and deveined shrimp. I used fresh, but frozen would work as well
1/2 tsp ground cumin
1/2 tsp garlic powder
1 tsp paprika
½ tsp chili powder
¼ tsp onion powder
Pinch of cayenne
1 TBSP avocado oil
2 TBSP avocado oil
For the crema (will be used for slaw and to drizzle on top of tacos):
1 avocado
¼ cup cilantro
¼ C Full fat Greek yogurt
Salt to taste
Juice from one lime
Water to thin
Cabbage Slaw
½ head purple or green cabbage, shredded
Avocado crema
You will also need:
Corn tortillas
Optional: guac, salsa, corn, beans
Directions:
Place the shrimp in a shallow bowl with 1 TBSP of avocado oil and spices, make sure shrimp is coated evenly and set it aside to marinate
Place all of the crema ingredients in a food processor and blend until smooth. The amount of water you use will depend on how thin or thick you want your sauce
Save about 1/3 of your crema to use on top of your tacos. Place the rest in a bowl with your shredded cabbage and mix until fully incorporated. Set aside.
Now time to cook up the shrimp. Heat a large skillet over medium high heat. Add 2 TBSP of avocado oil and let the oil heat up for a minute or two. Add in shrimp and cook for about 3 minutes per side or until pink on the outside and opaque on the inside. While your shrimp are cooking, heat up your corn tortillas in a skillet for a few minutes.
Assemble your tacos with your tortillas, shrimp, slaw, and whatever other add-ins you like! Enjoy!