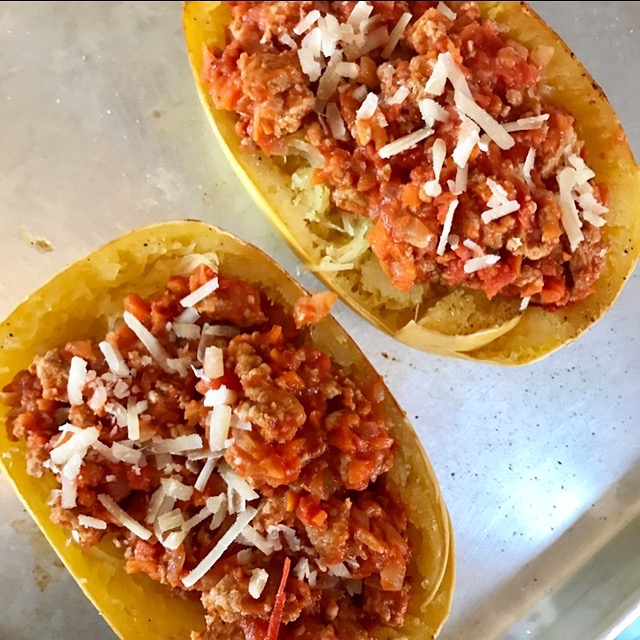 This is such a comforting dish, and it hits the spot every time I make it. The meat sauce is also a great thing to have in the fridge for the week to pair with some veggies and pasta. I like to make this on a Sunday so that I can store the leftover sauce for lunches and dinners Mon-Wed. It's a great meal if you have kids as well! The flavors are pretty mild and the texture is nice and soft. Feel free to make your own marinara, but I'm always looking for the quickest way to get things done around here! I really love Cucina Antica's sauces because they have only a few, simple ingredients, and they have no weird oils, added sugars, or preservatives. They also taste fantastic! I pair my meat sauce with the marinara or the vodka sauce. Enjoy!
Turkey Meat Sauce:
Ingredients:
1 yellow onion, finely chopped
2 carrots, finely chopped
3 gloves garlic, minced
1lb ground turkey meat
Jar of marinara sauce
Directions
1. Heat olive oil on medium heat in a large pot
2. Add garlic, onions, and carrots, cook until tender, about 7 min
3. Add turkey meat and cook until no longer pink, about 7 min
4. Add marinara sauce and reduce to a simmer until thickened (I used Cucina Antica)
5. Serve with spaghetti squash!
*You can sub out the marinara for Cucina Antica's La Vodka sauce also. It adds a nice creaminess to the dish! You can also be fancy and make your own sauce, but with a screaming baby around I opted for the easier version 😉
Spaghetti Squash:
1. Cut in half lengthwise, drizzle with EVOO and season with salt and pepper
2. Place on a parchment paper-lined baking sheet cut side down and bake at 400 for 45 min or until tender (may be a little less or little longer depending on the size of the squash!)
3. Let cool for 15 minutes
4. Use a fork to stir the squash meat into "noodles"